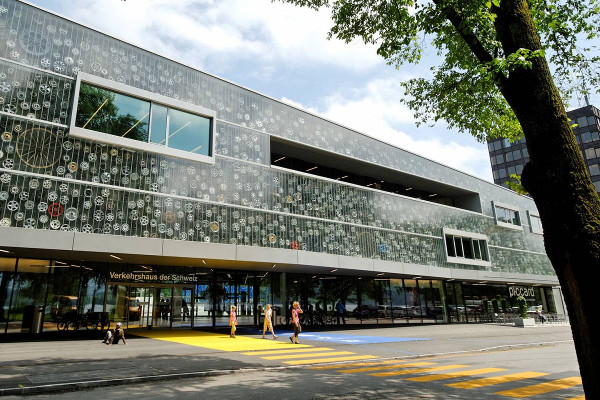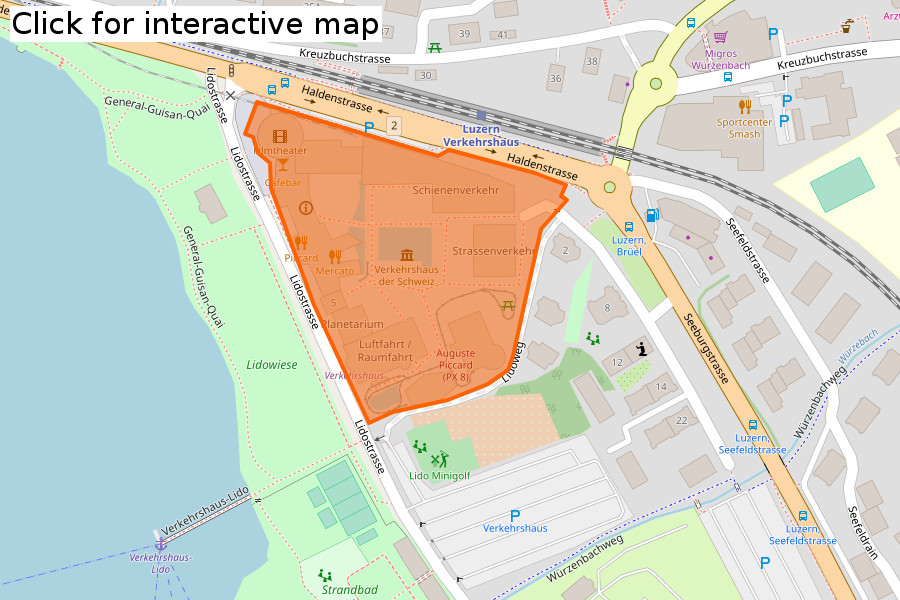 How to get to Lucerne and the Swiss Museum of Transport?
By public transport
Lucerne is located at the heart of Switzerland. The nearest international airport is Zurich (ZRH). Trains from Zurich Airport to Lucerne take 1 h 10 min and run regularly.
Check the Swiss Federal Railways (SBB) webpage for schedules.
From Lucerne railway station:
8 minutes by train (S3 or Voralpen-Express). Alight at "Luzern Verkehrshaus".
Timetables: www.sbb.ch
10 minutes by bus (no. 6, 8 or 24). Alight at "Verkehrshaus".
Timetables: www.vbl.ch
10 minutes by boat. Alight at "Verkehrshaus-Lido"
Timetables: www.lakelucerne.ch
30 minutes on foot along the lakeside promenade.
By car
GPS coordinates:
47° 3′ 10.152″ N 8° 20′ 8.147″ E
Click here to open in Google maps
Click here to open in Apple maps
Parking may be found along Lidostrasse and opposite the lakeside lido. 8 short-term parking bays (2 hrs), 4 disabled bays and 3 electric vehicle rapid charge points are provided in front of the museum.
Address of the congress venue "Swiss Museum of Transport":
Verkehrshaus der Schweiz
Swiss Museum of Transport
Lidostrasse 5
CH-6006 Lucerne
Switzerland
Phone: +41 41 375 75 75
E-mail: mail@verkehrshaus.ch

The Lucerne Visitor Card provided by your hotel
The Visitor Card is available to you during your stay in the Lucerne–Lake Lucerne Region. The Visitor Card gives you free use of buses and trains within zone 10 of the city network, as well as a range of discounts for cableways, mountain railways, museums and excursions in the Lucerne–Lake Lucerne Region. You can also take advantage of "Free WiFi – LUZERN.COM" hotspots dotted around the city. Your hotel will be pleased to issue you with the necessary documentation.
Or, if you may want to travel around the Lucerne region for a couple of days after the conference:
The Tell-Pass is the easiest way to discover the Lucerne–Lake Lucerne region. Visitors may enjoy two to ten days unlimited free travel by train, boat, buses and loads of mountain railroads and cable cars.
Accommodation
The official deadline for preferential hotel reservations has passed.
We therefore kindly ask you to book your accommodation in Lucerne on your own.
A variety of hotels can be found on the booking page of our partner, Lucerne Tourism: https://www.luzern.com/en/bookings/hotels/

for holiday houses & apartments:
https://www.luzern.com/en/bookings/holiday-houses-apartments/


Organizer
Matthias A. Hediger
University of Bern, Switzerland
Coorganizers
Anne Nies
Dr. Margarete Fischer-Bosch-Institut für Klinische Pharmakologie (IKP), Stuttgart, Germany
David Hepworth
Department of Worldwide Medicinal Chemistry, Pfizer, Cambridge, USA
Ken-Ichi Inui
Kyoto Pharmaceutical University, Japan
Bruno Stieger
University of Zürich, Switzerland
Coordination
BMT2019 Admin Team