Please read up on the stunning location of our upcoming conference by going to: www.casino-kursaal.ch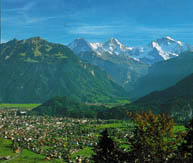 Sites around Interlaken: During the conference (Tuesday afternoon) we will take time for a tour of one of the most breath-taking mountain spots in Europe:
Jungfraujoch: Top of Europe - 3454 m above sea level. This trip departs from the congress center by coach to Lauterbrunnen and continues by train via Wengen to the Kleine Scheidegg. It then proceeds via the notorious north face of the Eiger - including the two viewing stations on the Eigerwand and Eismeer which are set in the rock - to the underground Jungfraujoch summit station (the highest railway station in Europe). Attractions: Ice Palace, Sphinx Terrace, Huskies and summer skiing. The return journey is via Kleine Scheidegg to Grindelwald and then by coach back to the congress center.